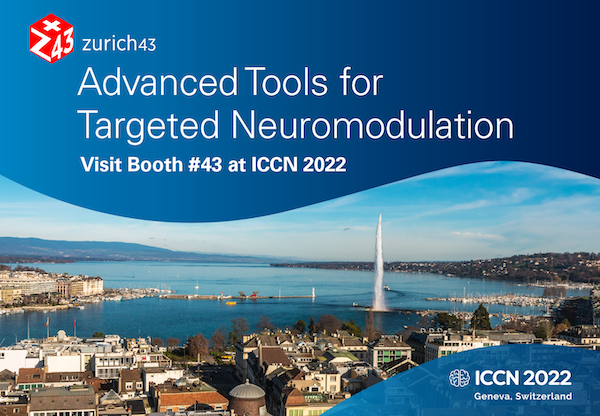 Exhibition: ICCN 2022, Geneva, Switzerland
Date: September 4-8, 2022
Booth no: 43
Sim4Life, o2S2PARC, and TIBS-R showcased at ICCN 2022
ZMT Zurich MedTech AG (ZMT), IT'IS Foundation (IT'IS), and TI Solutions AG (TI Solutions), three of the four Zurich43 partners, will co-present at the ZMT booth at the 32nd International Congress of Clinical Neurophysiology (ICCN), September 5–8, 2022, at the Palexpo in Geneva, Switzerland. If you want to learn about the latest advances in modeling and simulation and a new investigational device for targeted, non-invasive stimulation of deep brain structures, be sure to stop by our booth!
ZMT will provide insights into in silico modeling of near-organ electric modulation and recording, and the subsequent workflow that drives the development of new technologies in bioelectronic medicine. We will also show how the use of personalized and neuro-functionalized anatomical models in Sim4Life can maximize stimulation outcomes by identifying optimal electrode locations for targeted stimulation and enable investigations into the performance and safety aspects of neuromodulation.
TI Solutions will debut the brand-new multichannel Temporal Interference Brain Stimulator for Research (TIBS-R). Together with the TI Planning Tool developed by the IT'IS Foundation, TIBS-R enables reliable investigations of non-invasive TI brain stimulation applications.
IT'IS will demonstrate the o2S2PARC platform, a freely accessible, intuitive, and interactive online platform to simulate peripheral nervous system neuromodulation/stimulation and its impact on organ physiology in a precise and predictive manner. o2S2PARC allows collaborative development and sharing, model coupling and cloud-based execution, data visualization and analysis, and ensures the sustainability of the computational models within the U.S. National Institutes of Health SPARC program.
We look forward to welcoming you in Geneva!
The ZMT Zurich MedTech Team